Summer Love Tour 2018 – Iloilo City, Philippines (The City of Love)
David and the Giants Philippines Mission Trip was an incredible trip that was filled with the glory and presence of God. It would be hard to write on paper what all the Lord did but I will give you a few of the highlights of the trip.
Our trip was supposed to have started on April 14th but because of bad weather, our flight was postponed until the early morning of the 15th. We traveled from Jackson, MS to a short layover in Houston, TX. From there we flew to Tokyo, then on to Manila then around 5:30 am on Tuesday we arrived in Iloilo City, Philippines. A group was there to greet us and most of the team went on to check into the hotel. Keith and I were taken straight to the number one TV station where we were interviewed and also sang a song. (It wasn't easy singing as my voice was really tired.) Glory to the Lord it still worked. I felt the technical crew and camera workers were touched during our time there. It was a great opportunity and the potential of all the viewers that watched was worth it all.
Because the time in the Philippines was 12 hours ahead of what I was used to, it was somewhat of a challenge to get used to the time change. On Wednesday the group set up in a VERY large mall where we sang a few songs to give a sample of the concert coming up on the 22nd. It was greatly received as we were able to meet and talk with many people.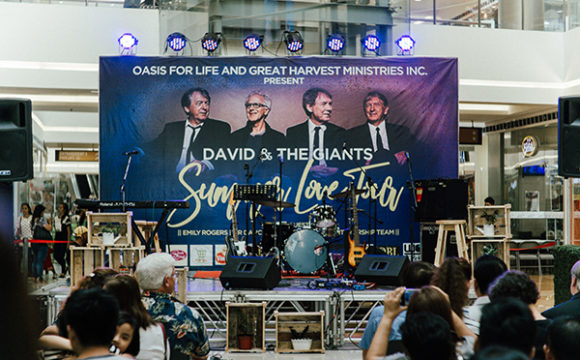 On Thursday we had the honor to be invited to the Mayor's office. What a great visit it was. He was a Christian man and even sang us a song. How beautiful it was. From there on to another radio station with the group to do an interview. The interview was our testimony and telling everyone about the upcoming event on the 22nd.
On Friday we took the day off to go visit another city where we met several other Christian Brothers & Sisters. It was another great day meeting with some of the greatest people we've ever met.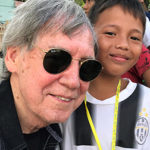 On Saturday we went to minister to the children in a place they called the slums. I wasn't sure where they were taking us but I knew that this would be a HIGHLIGHT of the trip. As we traveled there it was so sad to see how the people lived. There are 4 million people who live in this city and most live on very little. Upon the driver letting us out of the van I was taken back by so much of the poverty I was seeing. They took us all down a little path that led to the huts or this place that they called home. I can't describe the feeling inside as I'm writing this but I will say my life was ever changed. Here is one area of the slums there's an opening where Oasis Of Love comes on Saturdays to have services and hand out food.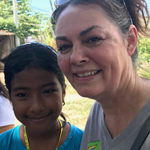 There was one little girl who when Twyla met her, she could not control the tears. I felt the same way. Of course, all the children were so incredible but it was just something when we looked into the eyes of this one little girl we were both moved with so much compassion. We were at this time split into several groups. From there we went into the homes of many people in this neighborhood. We prayed with whoever was in the home. There was a great move of God and several received the baptism of the Holy Ghost. In another group one lady could barely see but after the group prayed she could see clearly. Entering one of the homes I felt this one young man who lived there was dealing with homosexuality. After praying with him we received word later that he was laying down that lifestyle and following the Lord Jesus!!
There was a person before leaving to go on the Philippines Mission Trip who gave money for us to give to the children. We had so much joy that we could bless these wonderful people through not only our prayers but offerings too.
On Sunday morning before going to a church service with Pastor Tony and the church family, we were taken to another radio station for our last radio interview. This station was another number 1 station in this large city. They also broadcast live on Facebook with the potential of 500 million viewers around the world. Great Harvest Ministries is in another city and where we went to be in service. The building is open but has a roof. Incredible service and many people received a touch from the Lord.
Later that afternoon we met at the civic center to go over all the last-minute details before the concert at 6:00 pm. They had 6,000 tickets printed up and they were all given away. At 6:00 pm they came filing in. To be honest I wasn't expecting that many people but the Lord was all in it. It was hard to estimate how many were there but the security guards said 6,000. As usual, after we play a song called Noah we give an altar call. Again it's hard to determine how many gave their lives to God that night but it was tremendous as we saw pastors laying hands and praying for so many.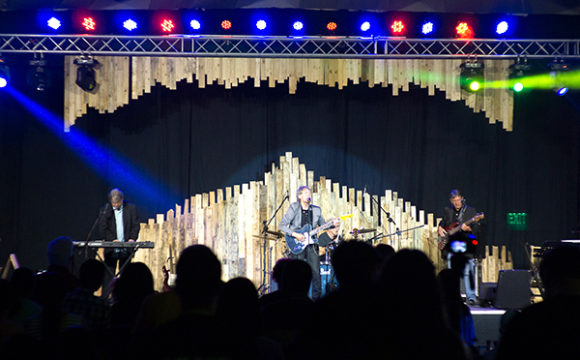 It was truly an experience that's evermore in our hearts. We appreciate so much Brother Charles Rasberry and Pastor Tony for having a burden to have an outreach to reach the city of Iloilo City, Philippines. To the wonderful people of God who made themselves as Servants of the Lord to win their city. Thank you all. God Remembers.
Blessings,
David Huff
The Summer Love Tour in the heart of the Philippines purposed to reach out to thousands of people and bring them to the knowledge of Jesus Christ. Photos and Video by: Homer Superio, Founder & Creative Director of Finished Work Studios, and Raymund Lumangyao, Co-Founder & Managing Director of Finished Work Studios